Animal Specimen Introduction
Instructions for fish anatomy organic resin embedded Specimen
1. Live carp with body length no less than 150mm is selected to make the product. The specimen is embedded in a safe, non-toxic transparent resin block, and the embedded material is transparent organic resin.The content of heavy metals and harmful chemicals in the embedded materials shall be in accordance with the national safety standards for toys. The surface shall be polished and polished, smooth and transparent, and the edges and corners shall be smooth.No bubbles, cuts or scars affecting observation.

2. The blood vessels of the specimens were injected with red and blue pigments.

3. Cut off the left side of the gill cover, wall, pectoral and pelvic fins and head kidney, kidney and the front of the gonads to display the digestive system of the mouth, esophagus, intestine, anus, liver pancreas, and gallbladder: respiratory gills, maw and maw tube: circulation system of venous sinus, atrium and ventricle, arteries, abdominal aorta, the gill, the branchial artery and spleen: the excretory system of kidney and ureter: the reproductive system of testis and urogenital hole;A lateral nerve of the nervous system.
Biological Specimens Application
Through the study of specimens, students can have a complete understanding of fishes.
Animal Specimens For Sale Maintenance And Storage

Products should not be exposed to the hot sun.
Preserved Specimens Details
1. The mouth
2. Main abdominal pulse
3. Into the branchial artery
4. Gill filaments
5. Branchial artery
6. The arteries
7. Ventricular
8. Atrial
9. Maw
10. The gallbladder
11. Liver pancreasIm
12.Intestine
13. The kidney
14. The kidney
15. Testis (male) or ovaries (female)
16. The anus
17. Cloacal orifices
18. Lateral line
Insect Specimen Image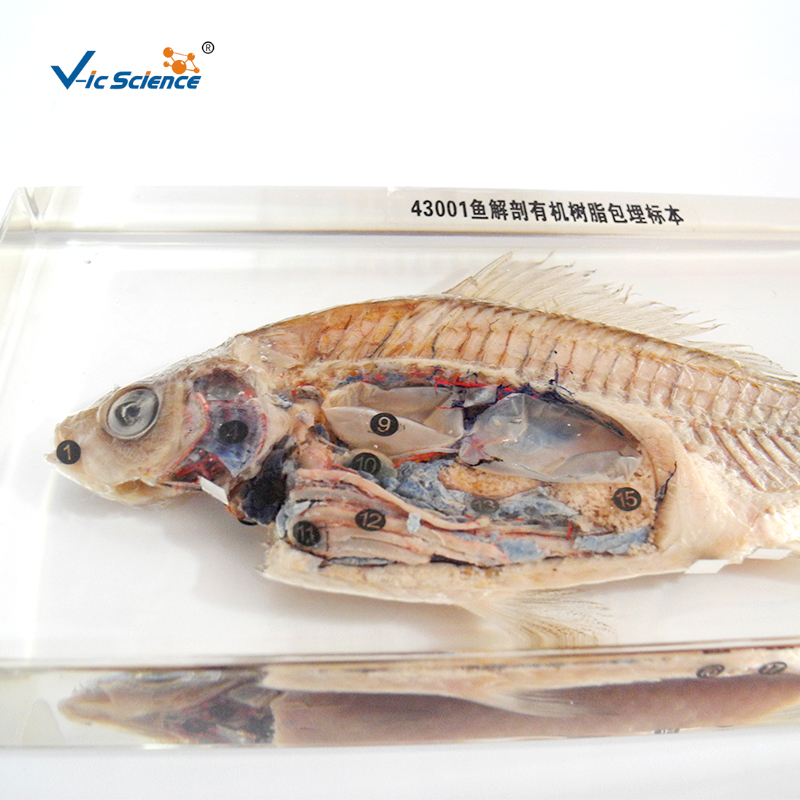 Product Categories : Biology Specimen > Animal Specimen