Microscope Prepared Slide Introduction
1- High hardness box to storage the slides, eco-friendly and breathable.
2- Selected fresh and fine specimens from various categories, no lesion.
3- Displayed structure, parts, organ is obvious and clear.
4- Every slides is checked strictly by the professional to guarantee the quality of the product.

The Prepared Slides we offer are professionally hand mounted, accurately stained, and individually labeled.
Our microscope slides are great for students of all ages, from home-schoolers to college students looking for an excellent introduction to microscopy. The prepared slides give you the most diverse possible biological selection. These slides are premium and machine cleaned giving a sharp image.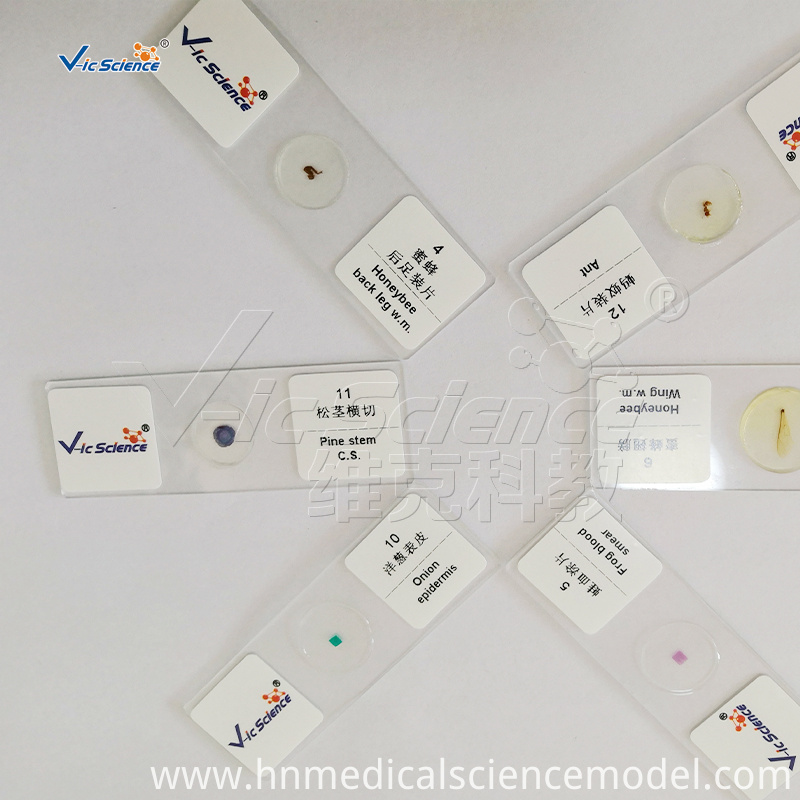 Biology Slide Parameters
Product Name:15 Pcs Biological Prepared Slides
Product No.:VIC-03
Size:76.2*25.4*(1.0~1.2)mm
Specification:15 pcs
Packing:Plastic Slide Box (Wooden Slide Box need to be customized)
Microscope Biology Slide Listing
15 pieces Prepared Slides

1

Typical dicot root,ranunculus mature root cs

2

Monocot root(zea mays)

3

Dicot stem delianthus older stem

4

Monocot stem (zea mays stem c.s.)

5

Dicot leaf helianthus leaf c.s.

6

Monocot leaf zea mays c.s.

7

Cladymonas

8

Leaf of pine needle

9

Human Cell Mucus Membrane (smear)

10

Frog Epidermic Cell (section)

11

Dog squamous Epitheblium (whole mount

12

Paramecium (whole mount)

13

Hydra (cross section)

14

Earthworm (crosssection)

15

Daphina (whole mount)
Product Categories : Microscope Prepared Slide > Biology Slide