Microscope Prepared Slide Slide

We are a professional manufacturer and distributor of science and educational supplies for primary schools, middle schools, colleges, hospitals or medical institutes. The slide was cut subtly without any mark, break or constrict. There is no destruction of tissues or cells.The spread of tissues has clear bounds; they remain the original shape. Also the coloration for the tissues is obvious and clear.
1) Frosted corner, safe not to hurt hands.
2) Clean, sanitary, no residual glue.
3) content is clear and colorful.
Microscope Slide Listing
1

Paramecium w.m

2

Ascaris ova w.m.

3

Rotifer w.m

4

Mosquito leg w.m.

5

Fly Wing w.m.

6

Fly leg w.m.

7

Honeybee Wing w.m.

8

Butterfly leg w.m.

9

Dragonfly wing w.m.

10

Mosquito Wing w.m.

11

Grasshoper wing w.m.

12

Honeybee back leg w.m.

13

Honeybee front leg w.m.

14

Grasshoper leg w.m.

15

Mantis leg w.m.

16

Ovary sec.

17

Cyclops w.m.

18

Daphania w.m.

19

Bird feather w.m.

20

Chick hair w.m.

21

Rabbit hair w.m.

22

Dog hair w.m.

23

Sheep hair w.m.

24

Cat hair w.m

25

Duck hair w.m.

26

Earthworm W.M.

27

Human hair w.m

28

Cotton spider w.m

29

Smooth muscle islolated W.M.

30

Fly mouthparts w.m.

31

Mosquito mouthparts w.m.

32

Human blood smear

33

Frog blood smear

34

Chick blood smear

35

Duck blood smear

36

Prostate sec.

37

Butterfly antennae w.m.

38

Bird blood smear

39

Human sperm smear

40

Skeletal muscle c.s.

41

Ascaris equina c.s.

42

Rabbit liver c.s

43

Kidney of L.S.

44

Cardiac muscle sec.

45

Butterfly wing w.m.

46

Earthworm T.S.

47

Grasshoper Sperm smear

48

Lung sec.

49

Intestine T.S.

50

Fish Gill sec.

51

Rat tail c.s

52

Fish blood smear

53

Pig live c.s

54

Honeybee mouthparts w.m

55

Rabbit blood

56

Red marrow smear

57

Aphis w.m

58

Mosquito larva,w.m.

59

Grasshoper antennae w.m.

60

Rabbit Womb sec.

61

Neuron w.m

62

Skin of frog Sec.

63

Leech T.S

64

Rabbit Intestine sec.

65

Female Ascaris sec.

66

Taenia

67

Skeletal muscle

L.S.

68

Rat tail l.s

69

Bird skin sec.

70

Tubellaria c.s.

71

Fish tail l.s

72

Three Types of Bacteria smear

73

Fowl lung sec.

74

Tadpole l.s

75

Tadpole c.s

76

Stratified epithelium c.s

77

Frog liver sec.

78

Myocardial separation w.m

79

Skeletal muscle separation w.m

80

Spinal cord t.s

81

Peripheral nerve c.s

82

Artery and vein c.s

83

Spleen sec.

84

Pancreas sec.

85

Stomach sec

86

Testis c.s

87

Ureter

88

Vesiculae seminal

89

Fallopian tube

90

Breast sec.

91

Elastic cartilage

92

Squamous epithelial from human

93

Insect compound eye W.M

94

Bee bee needle w.m

95

Artery ,sec

96

Tongue l.s

97

Taste bud Sec.

98

Shrimp egg w.m

99

Honeybee antennae w.m

100

Kidney T.S

1

Spirogyra W.M.

2

Ulothrix W.M.

3

Foliose cholrella

4

Volvox W.M.

5

Hydrilla vertillata leaf w.m

6

Euglena W.M.

7

Corn smut

8

Onion Pollens w.m

9

Pine Pollens w.m

10

Lily Pollen w.m

11

Different kinds of pollens

12

Chlamydomonas W.M.

13

Grape stem segregation

14

Pollen of cole W.M.

15

Rice leaf

16

Pandorina

17

Rhizopus W.M.

18

No ballon Pine Pollens w.m

19

Vicia faba root tip t.s

20

Tremella fucifomis W.M.

21

Corn Root Tip c.s

22

Allium root tip c.s

23

Lower epidermis of Triticum aestivum leaf W.M.

24

Corn flour

25

wheat flour

26

Rice flour

27

Porphyra w.m

28

Balloon Flower stem segregation

29

Berry hair w.m

30

stellate hair of Leaf Epidermis w.m

31

Dandelion Fuzz

32

Honeysuckle flower w.m

33

Epidermis of onion W.M.

34

Broad bean leaf epidermis W.M

35

Commelina communis Leaf Epidermis

36

Fruit peel w.m

37

Broomcorn stem

segregation

38

Leaf needle of Pine T.S.

39

Limewood Stem C.S

40

Pine stem C.S.

41

Diatom w.m

42

Agaric

43

Morchella

44

Auricularia auricula

45

Sponge gourd pollen W.M.

46

Apical bud L.S.

47

Willow stem

48

Archegoniophore of Marchantia L.S.

49

Lower epidermis of leaf of corn leaf

50

Pine Male Globose Fruit l.s

51

Pine female Globose Fruit l.s

52

Cotton Fibre W.M

53

Paper fibres

54

Nylon Fibers

55

Fern Leaf

56

Lichen

57

Lily tender anther

58

Lily mature anther

59

Lilium ovary

60

Cotton old root

61

Yeasts

62

Fresh water plankton

63

Corn Stem L.S

64

Winter jasmine leaf W.M

65

Privet leaf C.S

66

Cotton leaf C.S

67

Hibiscus pollen

68

Cattail Pollen

69

Leaf corn T.S.

70

Pine wood separation

71

Hydrophytic Leaf t.s

72

Ficus Leaf T.s

73

Sunflower Leaf. c.s

74

Sago cycas leaf c.s

75

Ginkgo leaf c.s

76

Buxus bud c.s

77

Pineapple sec.

78

Mucor W.M

79

Verticillata leaf sec.

80

Tea leaf c.s

81

Lilac leaf c.s

82

Anther sporogenesis of Lily

83

Maize anther sec.

84

Maize root tip

L.S

85

Leek leaf

86

silk w.m

87

Lilium embryo sec.

88

Sycamore branch stellate hair

89

Mesophytic Root T.s

90

Sycettidae fruit

91

Beans anther sec.

92

Basswood segregation

93

Cotton Stem, c.s.

94

Meiosis of Plants

95

Hydrophytic root t.s

96

Cole flower c.s

97

Semen Pharbitidis

98

Kelp

99

Lily Stigma c.s

100

cucurbita stem separation
Biology Slide Parameters
Product Name:Lab Educational Biology Microscope Slides
Product No.:VIC-DB2020200
Size:76.2*25.4*(1.0~1.2)mm
Specification:200pcs
Packing:Plastic Slide Box (Wooden Slide Box need to be customized)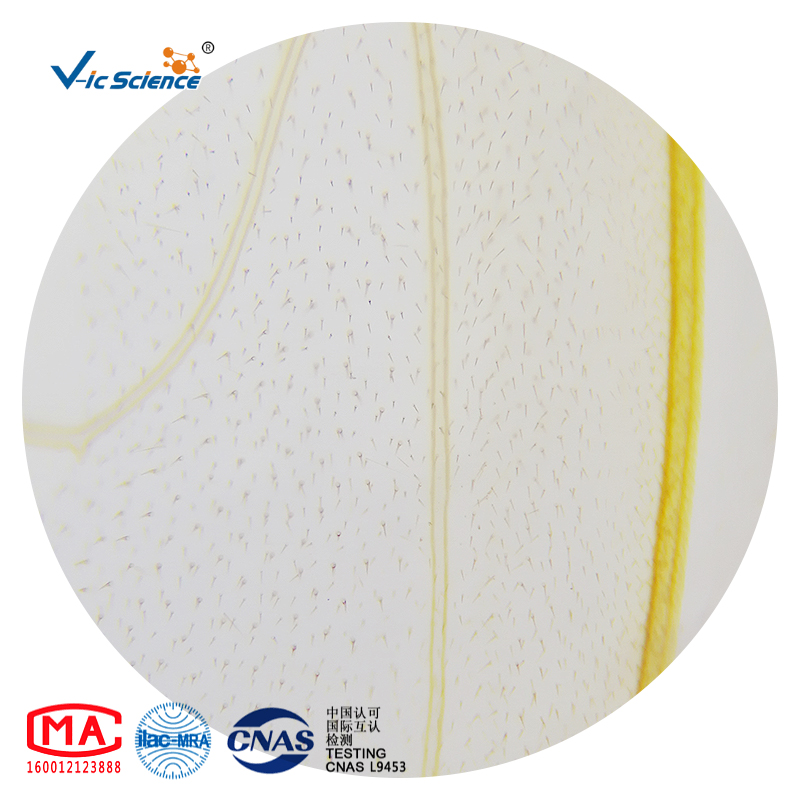 Product Categories : Microscope Prepared Slide > Biology Slide