Laboratory Consumables Introduction
Sperm Counting Chamber Application:

Sperm counting chamber is widely used in the Fluid samples of the routine examination and measurement inspection,such as semen, prostate, cervical mucus and so on.
Lab Consumable Features

Sperm Counting Chamber Advantage:

1.We have our factory , Focus on technology and innovation,accept mixed slides with your own logo & OEM .
2.The optimal depth: 0.01mm standard depth, effectively eliminate the speckle interference, sperm can swim freely, can observe the image one focal plane.
3.Easy to use: no need dilution of semen.
4.Economy: repeated use, clean and simple.
5.No need correction: repeat use exactly, never need correction.
6.Produced by the senior technician professional precision machining, all products have passed the laser diffraction testing,to ensure the accuracy of it.
7.Inlaid three beautiful rubies ,Judgment the accurate color edge three point.
8.The use of professional optical lens shockproof instrument box by external packing.
9.Technical data accurately.

Cell Counting Chamber Parameter
Main technical parameters:
1) exterior dimensions:76×36×7
2) The grid sperm count plate:0.01mm2/ per Trellis
3) with & without grid sperm counts board
4) The space between pedestal of count plate and cover plate is 0.01mm(10u)
5) precision error: The clearance at 37 degrees is ±0.001 (4 red light wavelengths)

Usage way:
1) Φ 6.5 mm round little platform on the base is carrier liquid platform.
2) Disinfecting the platform using medicine alcohol
3) Dropping the inspected body fluid on the round platform
4) Close the cover and insert it to the Microscope platform of constant temperature. Then observe it using 20 X microscope.
5) In the microscope visual system, connect digital camera with computer, and then the computer scanning count work ( still using 20 X optical lens).

Consumables In Laboratory - Counting Chamber Photos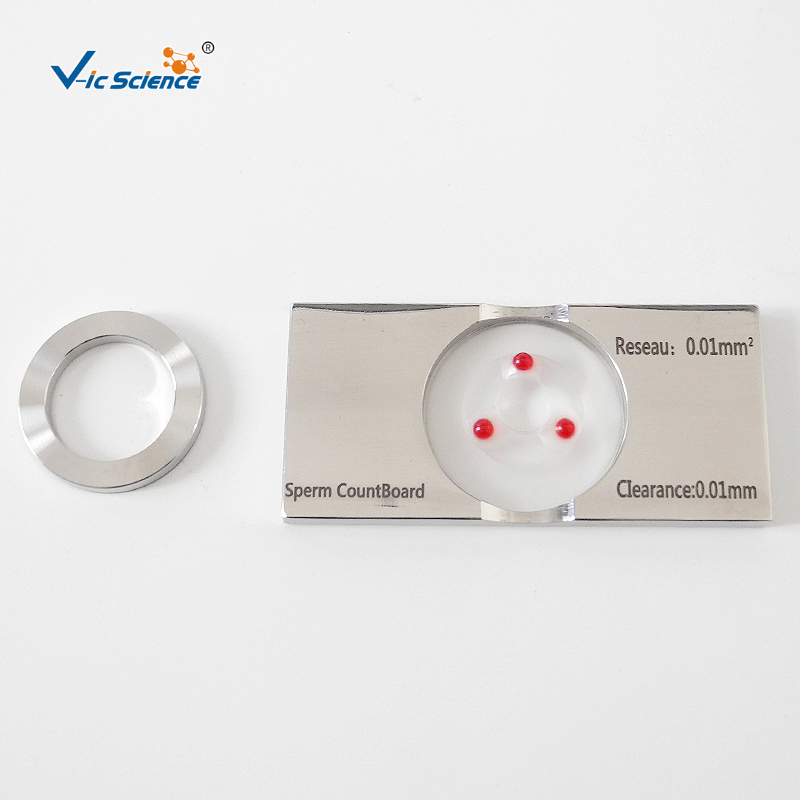 Product Categories : Laboratory Equipment > Counting Chamber