CPR Training Model Introduction
This Adult CPR model simple, economical and portable, it is used at all levels of hospitals, medical schools, an ideal model of CPR training and teaching.
Feature:
1) Airway opening simulation .Suture Training Model.
2) Handling press on the chest: strength correct (4-5cm),
show correct bumming .Training Model.
Pressure too large (over 5cm) ,show alert bumming.
3) Mouth to mouth (blowing): the tidal volume range
judged by observing the ups and downs of the chest .
(tidal volume standard ≤500ml/600m-1000mll≤) .
4) Operating frequency: the latest international standard:
100 times/min.


Medical Nursing Model Feature:
1) Head can be raised up and down, neck joint is movable.
2) Eyelid can open and close.
3) Nose wing is soft, easy to tweak. The mouth can open and close. Can do mouth to mouth respiration or mouth to nose respiration.
4) Consist of spring and heart model in heart part.
5) Skin is springy with natural skin color. CPR instrument feature:
1) Green light bright, heart pressure correct.Training Model.
2) Red light bright, heart pressure too strong .
3) No light bright, pressure on a wrong place or pressure is too light .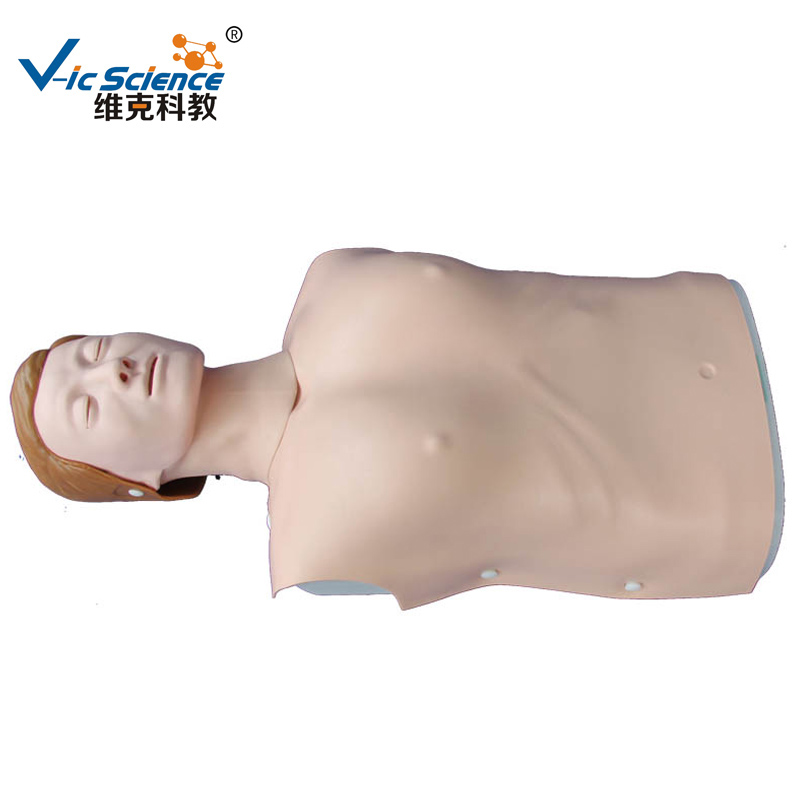 Different Training Models Parameters
Product Name:Cpr Training Model- Basic CPR Training Model
Product No.:VIC-404
Size:Life Size Half Body
Packing Specification:1pcs/carton, 65x27x47cm, 8kgs
Product Categories : Medical Nursing Model > CPR Training Model