Laboratory Equipment Histological Microtome Introduction
★ 1. Add 1 cylinder to the dehydrator to improve the gradient dehydration and realize the best effect of specimen dehydration.
2. Special heating device for dehydration, transparency, wax dipping, three-stage independent temperature control, to meet the requirements of all-weather dehydration under different temperature environments.
3. APS engineering plastic coating is applied to the surface of the body, with high strength, corrosion resistance, smooth lines and easy cleaning.
4. Fully intelligent design, timely judge and deal with abnormal situations;
5. Bright and soft Chinese /LED display, stable and reliable.Humanized keyboard, easy to program, intuitive, into the running state of the program self-lock, not due to misoperation affect the normal work;
6. The key control parts are imported with original installation, reliable operation and accurate positioning;
7. 2d soft drive system program runs silently, with a long working life, providing a comfortable and comfortable environment;
8. Professional integrated digital circuit control system, original imported core devices, accurate signal transmission, without any interference;
★ 9, no external power state can be memorized to complete the programmed continuous work, intermediate sudden power failure does not affect the organization processing effect;
★ 10, the first domestic dry heating, the patent technology to eliminate the traditional water heating caused by water vapor damage to the machine and tissue, and accurately ensure the temperature of melting wax;
11. Powerful software functions and unique single cylinder position identification system ensure the accurate positioning of cylinder position, and completely eliminate the troublesome alarm processing device set due to the inaccurate cylinder position;
12. Special aviation high sensitivity temperature sensor and relay double protection to ensure the safety of the machine;
★ 13, the national patent technology chute type hanging basket lifting and unloading device, to ensure the smooth operation of the basket is very convenient, completely eliminate the danger of falling basket when dehydration.
14. Built-in circulating air purification system, high efficient adsorption of harmful gases, external exhaust channel
Further purify the air and make the room green.
15. Highly integrated modular digital special control cabinet, effective record control, making maintenance and after-sales more convenient;
16, after the power failure can continue to work, run the program is not affected;
★ 17, no water heating, temperature control precision is high, triple heating safety protection can completely eliminate all kinds of disadvantages of water heating, temperature control more accurate and safe, national patent, domestic initiative.


Lab Equipment Histological Microtome Parameters
Histological Paraffin Microtome Main Technical Specifications
Number of cylinders: 12+1 (1 fixed cylinder, 9 reagent cylinders, 3 paraffin cylinders)
Single cylinder volume: 1100ml
Processing time: 0 ~ 99 hours and 59 minutes for 1 ~ 10 cylinders, 0 ~ 23 hours and 59 minutes for 10 ~ 13 cylinders
Running program: Two programs that are combined into several running programs
Cylinder insulation mode: it can realize full heating three-stage temperature control, fixed dehydration 1 ~ 8 cylinder 0 ~ 40℃ arbitrary setting, transparent 9 ~ 10 cylinder 0 ~ 30℃ arbitrary setting, paraffin 11 ~ 13 cylinder 0 ~ 99℃ arbitrary setting
Heating mode: inner heating in precision casting (no need to add water, national patent protection)
Blackout protection working time: ≥6 hours
Change the tank to stay leach time: 10 ~ 240 seconds
Stirring: 3 ~ 6/min
Power supply voltage: AC220V±10% frequency rate: 50±1HZ Power rate: ≤ 1.5kVA
Shape: 1090 mm×380 mm×440 mm


Tissue Microtome Application

The histological microtome is widely used in hospitals, biomedicine, life science, agriculture and forestry, education, health and epidemic prevention, animal husbandry and veterinary, scientific research institutions, laboratories and other departments at all levels.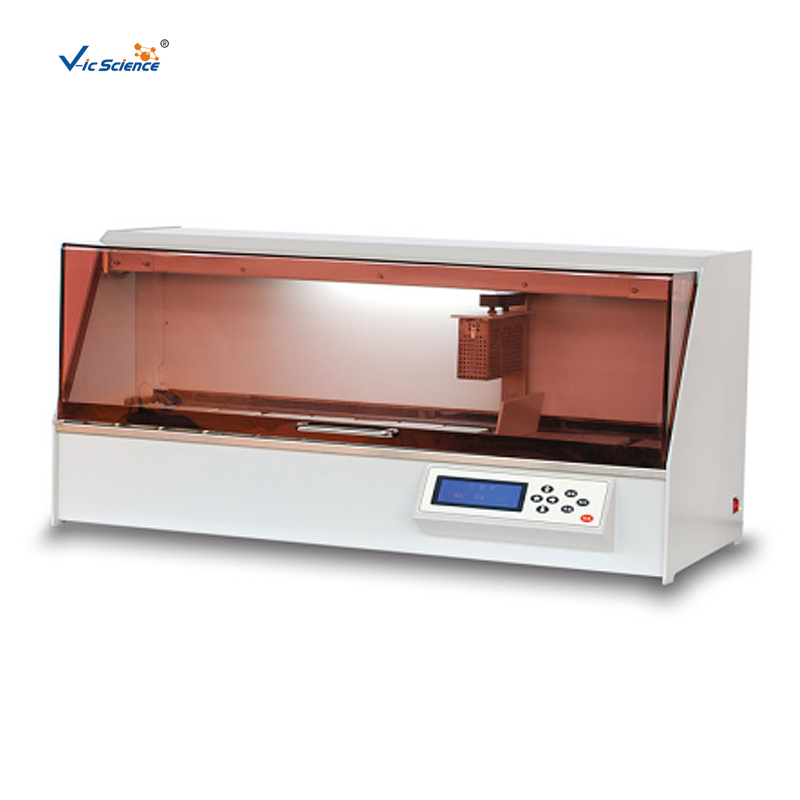 Product Categories : Laboratory Equipment > Histological Microtome