Human Acupuncture Model Introduction
Highly illustrated and detailed, these two colorful models depict 14 Primary channels, 361 acupoints and 48 extraordinary acupoints on the right side, along with "CUN" markers for easy evaluation of distances between points. The left side is a subcutaneous view providing an invaluable look at the neural distribution, artery, vein, blood vessel and muscular structures. The left side also depicts upper and lower extremity "Extra" point not located on the Primary channels. Suitable for teaching and learning of Chinese medicine, acupuncture and massage etc. Copper color acupuncture model is available.Acupuncture Model.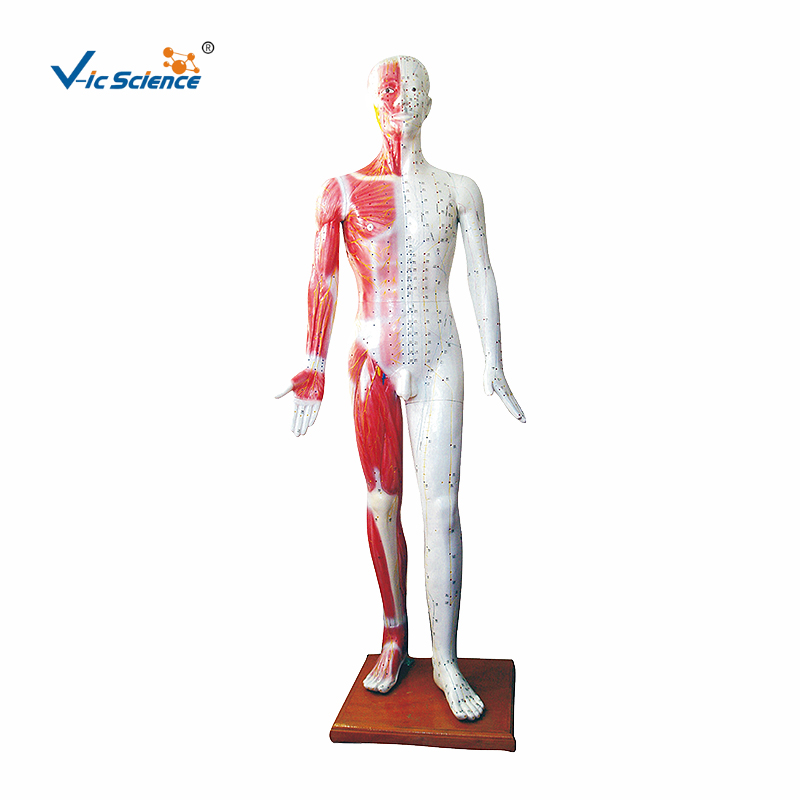 Acupuncture Point Model Knowledge

Under the guidance of the theory of Traditional Chinese medicine, the needle is thrust into the patient's body at a certain Angle, and the specific part of the body is stimulated by twisting, lifting and thrusting, so as to achieve the purpose of curing diseases.Acupoints are called human acupoints for short.According to the latest statistics from the teaching materials of acupuncture and moxibustion, there are 361 acupuncture points in the human body.Training Model.
Human Acupuncture Model Parameters
Product Name:Human Acupuncture Model——Deluxe Acupuncture Model
Product No.:VIC-501
Size:178CM
Packing Specification:1pcs/carton, 130x47x64cm, 25kgs
Product Categories : Human Acupuncture Model