Medical Nursing Model Introduction
Training Theories And Models.TRAUMA MODULE:
1) Facial Burn, degree I, II, III.
2) Laceration of forehead.
3) Jaw wound.
4) Open clavicle fracture and contusion wound on the chest.
5) Abdominal wound with protruding intestines.
6) Open humerus fracture of the arm.
7) Open fracture of the hand (including parenchyma laceration, fracture and bone tissue exposure).
8) Gunshot wound of the palm.
9) Burn in the forearm, degree I, II, III.
10) Open femur fracture of the leg.
11) Open tibia fracture of the leg.
12) Leg amputation.
13) Metal pricking wound of the thigh.
14) Tear of the thigh skin.
15) Sepsis wound of the thigh.
16) Infective ulcer of the thigh.
17) Foot necrosis.
18) Amputation stump of arm.
19) Amputation stump of leg.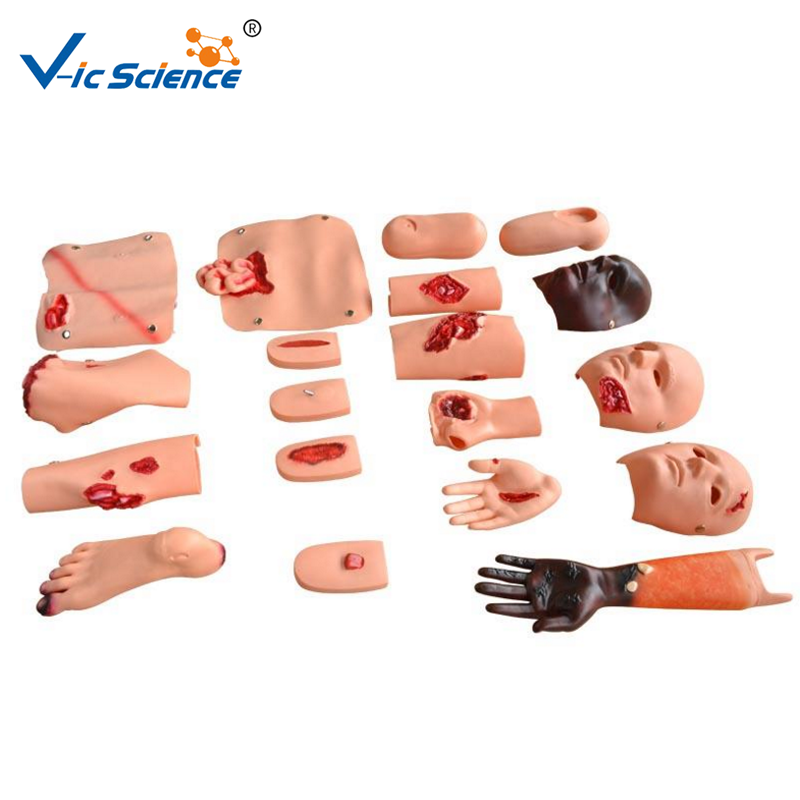 Medical Training Model Parameters
Product Name:Nursing Skills Training - Multifunctional Patient Care Manikin
Product No.:VIC-401D-1
Size:Life Size
Packing Specification:1sets/carton, 54x28x21cm, 5kgs
Product Categories : Medical Nursing Model > Medical Nursing Training Model